Online Business
Protect Your Privacy: Your Guide to Using Alliance Virtual Offices for Small Businesses
Protect your privacy: Your guide to using Alliance Virtual Offices for small businesses
This comprehensive guide delves into the essential aspects of safeguarding your privacy.
It reveals why utilizing a virtual office, such as Alliance Virtual Offices, can be a game-changer for your business.
The allure of remote work has brought unprecedented freedom and convenience to entrepreneurs and small business owners. Operating your business from the comfort of your home office has transformed how we work.
However, there's a hidden pitfall that many new business owners overlook—the exposure of your home address to the public eye.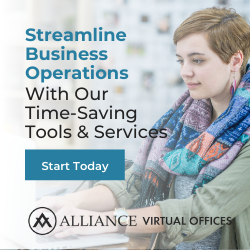 Get Started with Alliance Virtual Offices
The Privacy Predicament
Starting a new business is an exciting journey, but it's crucial to avoid common pitfalls that could compromise your personal security. One of the most prevalent missteps is registering your business with your home address. While the familiarity of working from home is appealing, it's essential to recognize that by doing so, you inadvertently expose your home address to the public domain.
This seemingly harmless action can have far-reaching consequences. Your private space becomes vulnerable to anyone with basic online search skills, potentially jeopardizing your sense of security and peace of mind.
Imagine if there was a way to maintain the convenience of a home office while fortifying your privacy—a solution that not only shields your personal information but also bolsters your business's professional image. Enter the Alliance Virtual Office, a powerful service that offers multifaceted advantages for small business owners.
Alliance Virtual Office offers a comprehensive shield for your privacy, allowing you to carry out your business activities without fearing exposing your home address.
A virtual office such as Alliance Virtual Office is a robust barrier between your personal life and business endeavors, from vital entity documentation and marketing materials to essential business licensing.
In an age where information travels at the speed of light and data breaches are a constant threat, safeguarding your personal privacy is non-negotiable. Beyond the security measures, utilizing Alliance Virtual Offices provides a spectrum of advantages that can significantly elevate your business operations and trajectory.
Read about: Registering your business for LLC
1. Professional Image Amplification
First impressions matter, especially in the world of business.
When clients, partners, or investors interact with your business, they form an impression based on various factors, including your business address. Alliance Virtual Offices offer you a prestigious address, often located in prime business districts, that instantly boosts your professional image.
This simple yet effective step can enhance your credibility and create a lasting positive impression on those who engage with your brand.
2. Geographic Flexibility
The beauty of modern business lies in its flexibility. With a virtual office, you're not confined to a single location. Whether traveling, expanding your business reach, or catering to clients across the globe, your virtual office remains a constant, irrespective of your physical location.
This flexibility ensures that you can conduct business seamlessly, no matter where you are.
3. Meeting Space on Demand
While remote work is the new norm, there are instances when face-to-face meetings are essential. Alliance Virtual Offices offers the added benefit of access to physical meeting spaces, which can be crucial for presentations, negotiations, and collaborations.
These professional environments provide you with the tools and ambiance necessary to make a lasting impact on clients and partners.
4. Administrative Support
Running a business involves myriad administrative tasks that can be time-consuming and distract you from your core activities. With an Alliance Virtual Office, you can access professional administrative support, including mail handling, call forwarding, and even reception services.
This allows you to focus on strategic decisions and business growth while leaving the operational intricacies in capable hands.

5. Expansion Opportunities
As your business evolves, so do your needs. A virtual office can be a pivotal asset if you want to expand your services, establish a new branch, or explore new markets. It allows you to expand your business footprint without the commitment and overhead costs associated with traditional office spaces.
6. Networking and Collaboration
The virtual office ecosystem often comprises a diverse array of businesses and professionals. This environment opens the door to networking opportunities, collaborations, and potential partnerships. Engaging with fellow Alliance Virtual Office users can lead to fruitful connections that propel your business forward.
7. Streamlined Business Compliance
Starting a business requires adherence to numerous legal and regulatory requirements. By using a Virtual Office, you can simplify the compliance process. Your Virtual Office provider can often assist you with obtaining the necessary licenses and permits, ensuring that your business operations are aligned with legal standards.

8. Focus on Core Competencies
Time is a finite resource, and your focus should be on your core competencies as a business owner. With a Virtual Office, you can delegate non-core tasks to professionals, allowing you to channel your energy and expertise into areas that drive your business's success.
9. Sustainable Business Practices
In today's environmentally conscious landscape, sustainable practices are highly valued. Opting for a Virtual Office reduces carbon footprints associated with traditional office spaces. You minimize the need for commuting, paper usage, and energy consumption, aligning your business with eco-friendly principles.

10. Future-Proofing Your Business
The business landscape is ever-evolving, and agility is critical to long-term success. A Virtual Office empowers you with the flexibility and adaptability to navigate changing market trends, technological advancements, and economic shifts. It positions your business to thrive in the face of uncertainty.
Adapting to new norms and challenges becomes paramount as the business landscape transforms. The allure of remote work and the need for enhanced privacy and security make a Virtual Office an indispensable tool for modern entrepreneurs and small business owners.
The benefits of utilizing a Virtual Office, such as Alliance Virtual Offices, are boundless, from protecting your personal privacy to amplifying your professional image.
So, whether you're a startup entrepreneur embarking on your maiden business journey or an established business owner seeking to revolutionize your operations, the Virtual Office concept offers a realm of opportunities.
Defending Against Identity Theft
In today's digital landscape, mail, and identity theft are pressing concerns that can wreak havoc on your business and personal life. By utilizing a Virtual Office, you can effectively sidestep these threats.
All incoming mail is meticulously handled by onsite staff, signed for, and promptly forwarded to your home. This streamlined process ensures that your essential correspondence reaches you safely and hassle-free, free from the prying eyes of potential identity thieves.
Preserving the Corporate Veil
For those operating as a separate legal entity, such as an LLC or corporation, maintaining the integrity of the corporate veil is paramount. Utilizing a distinct address for your business
enhances your professional image and serves as a critical layer of protection for your personal assets.
Should any legal issues arise, having a separate business address can help shield your personal finances from being entangled in legal proceedings.

Affordable Protection

Contrary to misconceptions, the security and benefits of a Virtual Office are well within reach for small business owners. Alliance Virtual Offices offers a range of plans starting from just $49 per month, making it a cost-effective investment in safeguarding your home and business.
Moreover, you can enhance your protection by adding a Virtual Phone for only $30 per month.
This dedicated business number keeps your personal cell number private and ensures that your business calls remain separate, enabling you to focus on what truly matters—your business growth.
Empowering Your Business with a Virtual Phone
In an era where communication is paramount, a virtual phone can be a game-changer for your business. By having a dedicated business number, you can bid farewell to intrusive calls on your personal cell phone.
This separation safeguards your privacy and projects a professional image to your clients and customers.
Curious about how a virtual phone works? Delve into our comprehensive guide that explains its benefits and functionalities in detail.
Learn how this simple addition can revolutionize how you communicate and protect your business privacy.
Take the proactive step to secure your privacy, elevate your business image, and embark on a journey of growth and success.
The future of business is here—seize it with Alliance Virtual Offices.
FAQs: Your Queries Answered
Q1: How does a Virtual Office protect my privacy better than using my home address?
A Virtual Office provides a distinct address for your business, keeping your home address confidential. This prevents your personal information from being easily accessible to the public, safeguarding your privacy.

Q2: Can a Virtual Office help prevent identity theft?

Absolutely. With a Virtual Office, all your mail is handled securely by onsite staff and forwarded to your home. This reduces the risk of mail and identity theft, protecting your sensitive information.

Q3: Is a Virtual Office cost-effective for small businesses?
Alliance Virtual Offices offers affordable plans starting from $49 per month. Considering the protection it provides for your home and business, it's a worthwhile investment in your security and professional image.

Q4: How does a Virtual Phone enhance my business communication?

A Virtual Phone gives you a dedicated business number, separating business calls from personal ones. This not only protects your privacy but also enhances your business's professionalism.
Take Action: Safeguard Your Business Today
*Disclosure: This post may contain affiliate links at no additional cost to you. I only recommend products I would use myself; all opinions expressed here are mine. In addition, I may earn a small commission.
Conclusion
Don't let the allure of remote work blind you to the potential risks. Take a proactive step towards safeguarding your privacy and enhancing your business's credibility.
Embrace the power of a virtual office from Alliance Virtual Offices and explore the various plans that suit your needs. Shield your personal information, defend against identity theft, and preserve the sanctity of your business—all at an affordable cost.
Ready to take the leap?
Start a chat with their friendly team and embark on a journey to secure and successful entrepreneurship. Your business and personal peace of mind deserve nothing less.