QuillBot
Unlock Your Writing Potential with QuillBot: A Comprehensive Review
Unlock Your Writing Potential with QuillBot: A Comprehensive Review
n the last two years, the demand for efficient and effective AI writing tools has never been higher in the ever-evolving landscape of online content creation. Writers, students, professionals, and content creators constantly seek ways to improve their writing, enhance productivity, and maintain high-quality standards.
One tool that has garnered considerable attention in recent years is the QuillBot AI Writing Tool. This blog post delves into QuillBot's features, benefits, and pricing plans and weighs its pros and cons to help you decide if it's the right tool for your needs.
*Disclosure: This post may contain affiliate links at no additional cost to you. I only recommend products I would use myself; all opinions expressed here are mine. In addition, I may earn a small commission.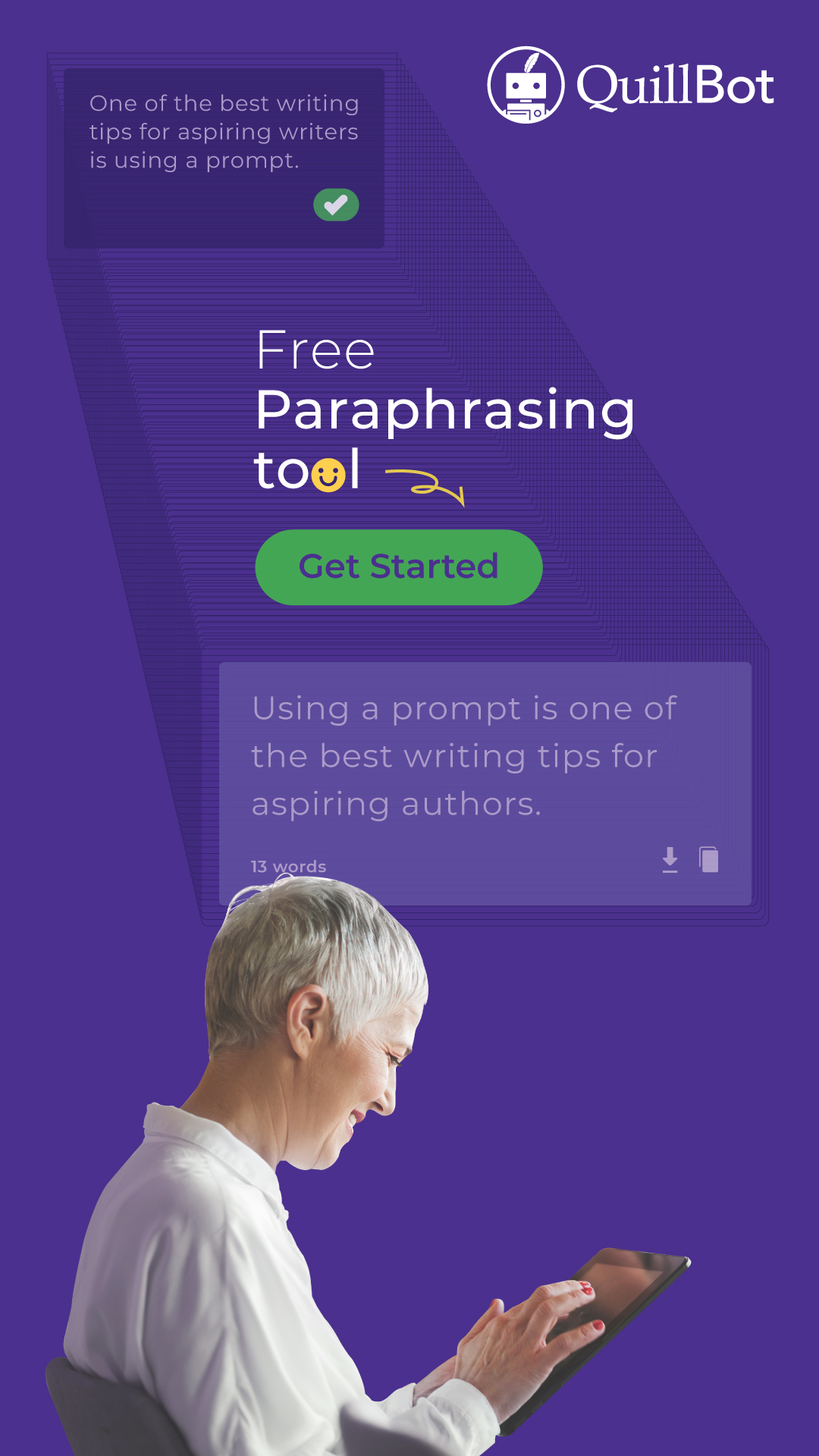 What is the QuillBot AI Writing Tool?
QuillBot is an advanced AI-powered writing tool designed to assist users in improving their writing skills, enhancing productivity, and crafting high-quality content effortlessly. Whether you're working on essays, reports, blog posts, or other written content, QuillBot aims to be your reliable writing companion. It employs state-of-the-art natural language processing (NLP) algorithms for various writing assistance features.
QuillBot AI Writing Tool
This AI tool is designed to assist users in improving their grammar, paraphrasing, enhancing productivity while crafting high-quality content.
Try QuillBot AI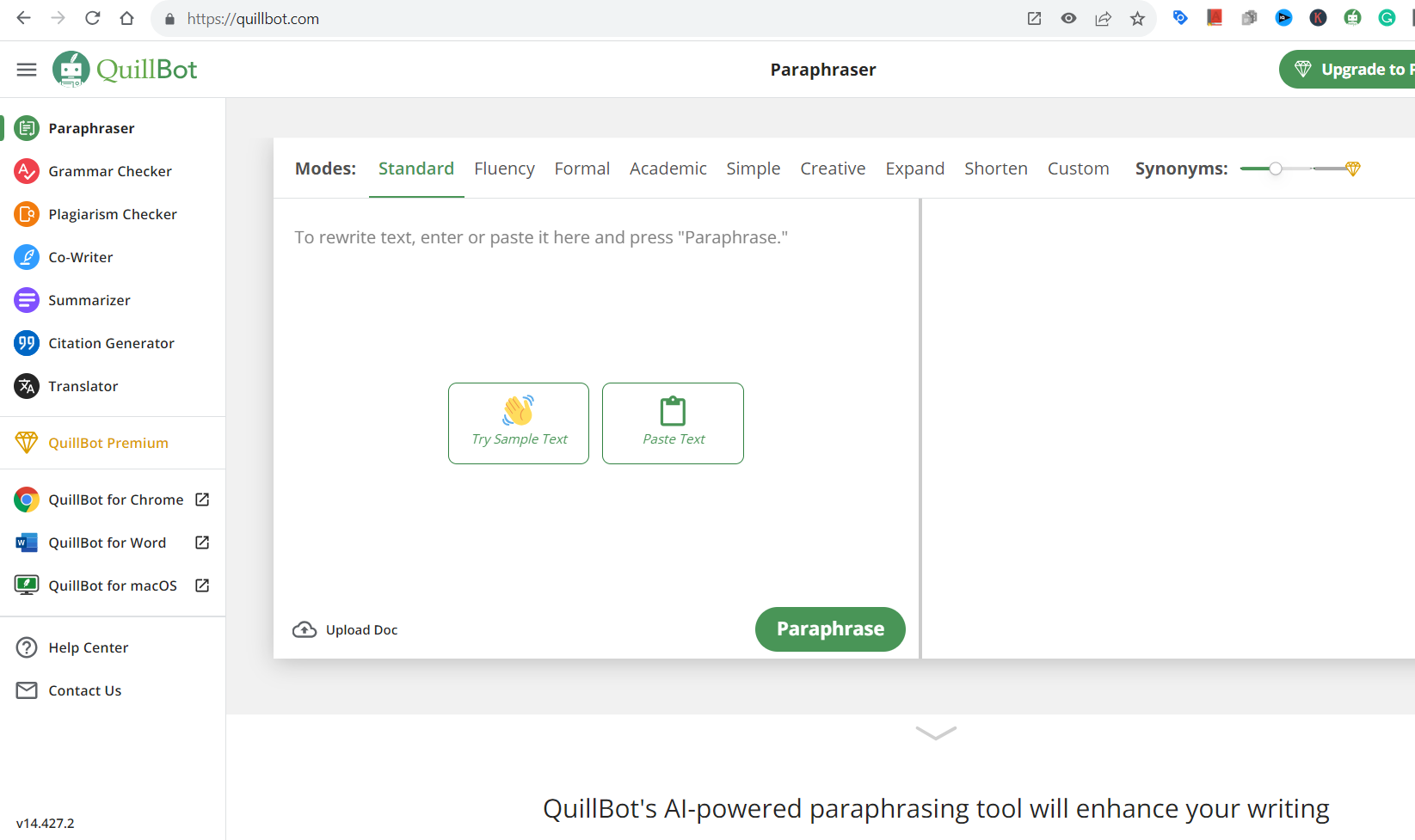 Features of QuillBot AI Writing Tool
1. Paraphrasing and Rewriting: QuillBot excels at paraphrasing and rewriting content while preserving the original meaning. It can help you generate unique and plagiarism-free content quickly.
2. Grammar and Spell Check: The tool offers real-time grammar and spelling checks to ensure your writing is error-free. It highlights mistakes and suggests corrections, helping you improve your writing skills.
3. Fluency and Coherence: QuillBot enhances the fluency and coherence of your writing, making it more readable and engaging. It can restructure sentences and paragraphs for better flow.
4. Vocabulary Enhancement: Expand your vocabulary with QuillBot's synonym suggestions. It helps you find the right words to express your ideas more effectively.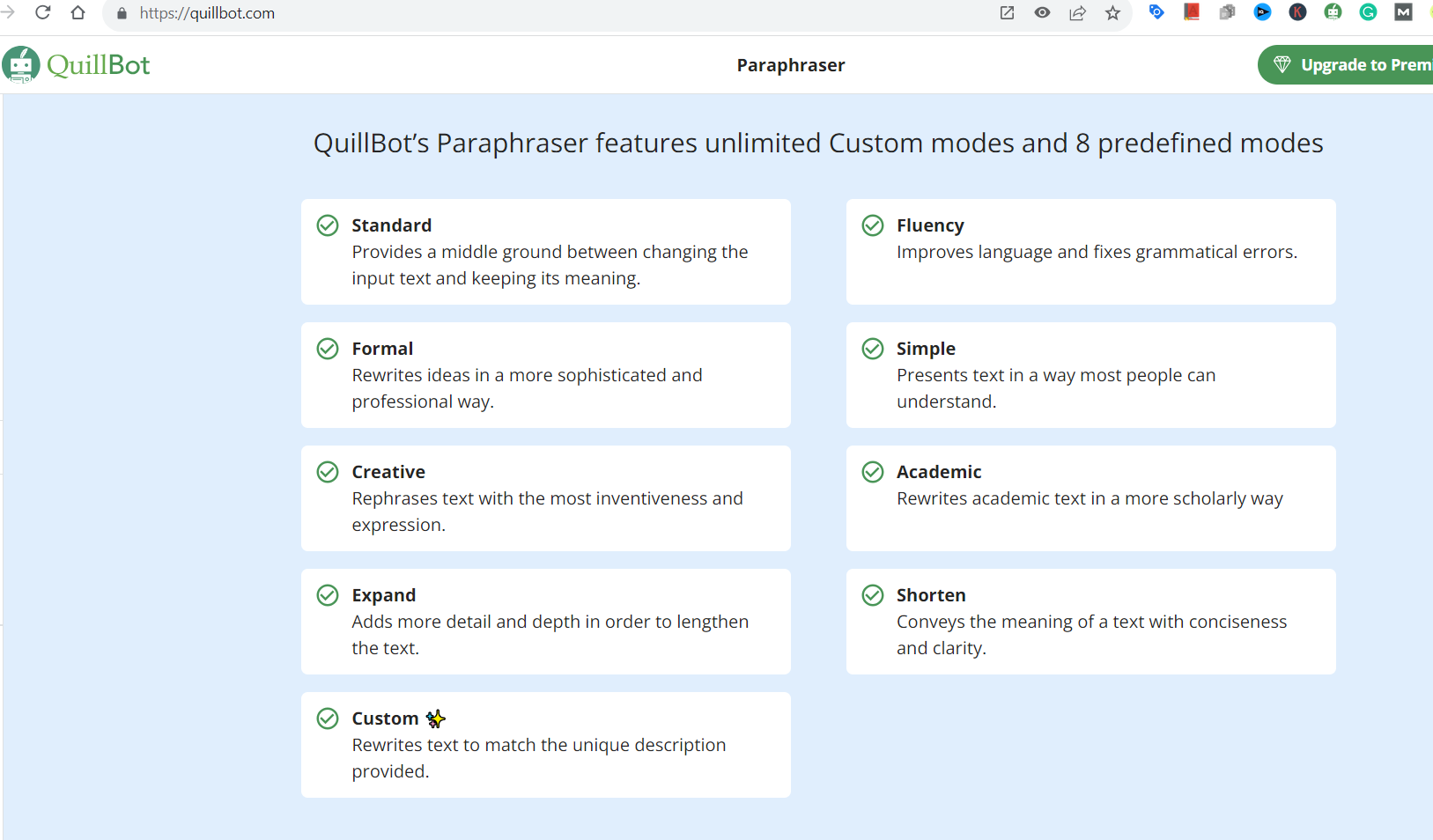 Benefits of Using QuillBot's AI Writing Tool
Now that we've explored its features, let's delve into the benefits of using QuillBot:
1. Time Efficiency: QuillBot helps you save time by speeding up the writing and editing process. Its AI-powered features enable you to produce high-quality content more quickly.
2. Improved Writing Skills: Regular use of QuillBot can enhance your writing skills. With its real-time feedback and suggestions, you'll gradually become a better writer.
3. Plagiarism Prevention: QuillBot's paraphrasing capabilities are excellent for avoiding unintentional plagiarism. It ensures your content is unique and original.
4. Enhanced Productivity: The tool streamlines the writing process, allowing you to focus on your ideas instead of getting bogged down by grammar and syntax issues.
5. Versatility: Whether you're a student, a blogger, a business professional, or a writer, QuillBot caters to a wide range of users and writing needs.
Pricing Plans

QuillBot offers flexible pricing plans to suit different user requirements:
1. Free Plan: QuillBot offers a free version with basic features like paraphrasing, grammar checking, and a limited word count. It's an excellent way to understand the tool's capabilities.
2. Premium Plan: The Premium Plan unlocks advanced features such as fluency and coherence improvements, synonym suggestions, and an extended word limit. It is available on a monthly or annual subscription basis.
3. Team Plan: Designed for teams and organizations, the Team Plan offers multi-user access, collaboration features, and a single purchase invoice. Pricing varies based on the number of users and their specific needs. A team minimum of 5 people is required.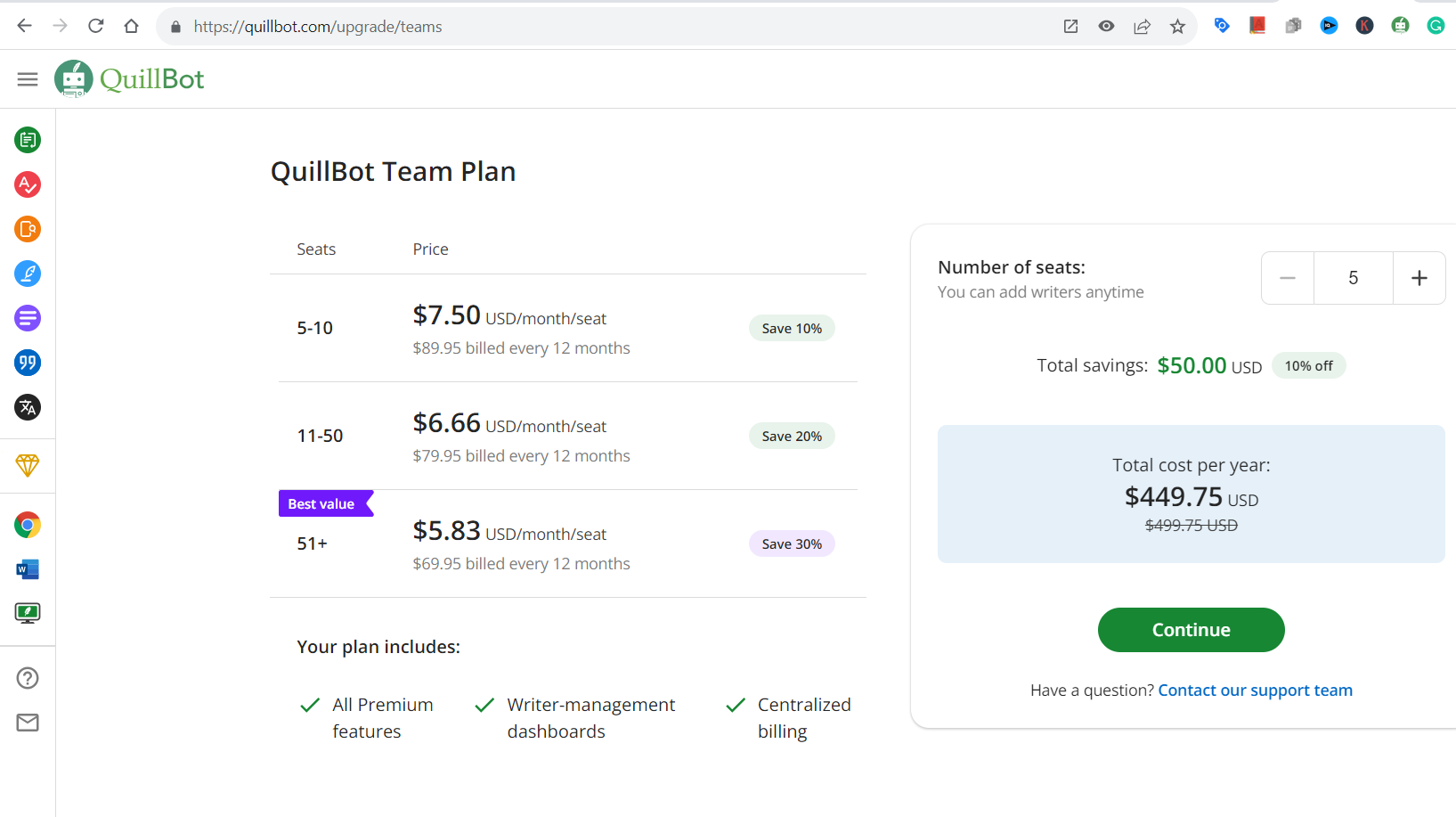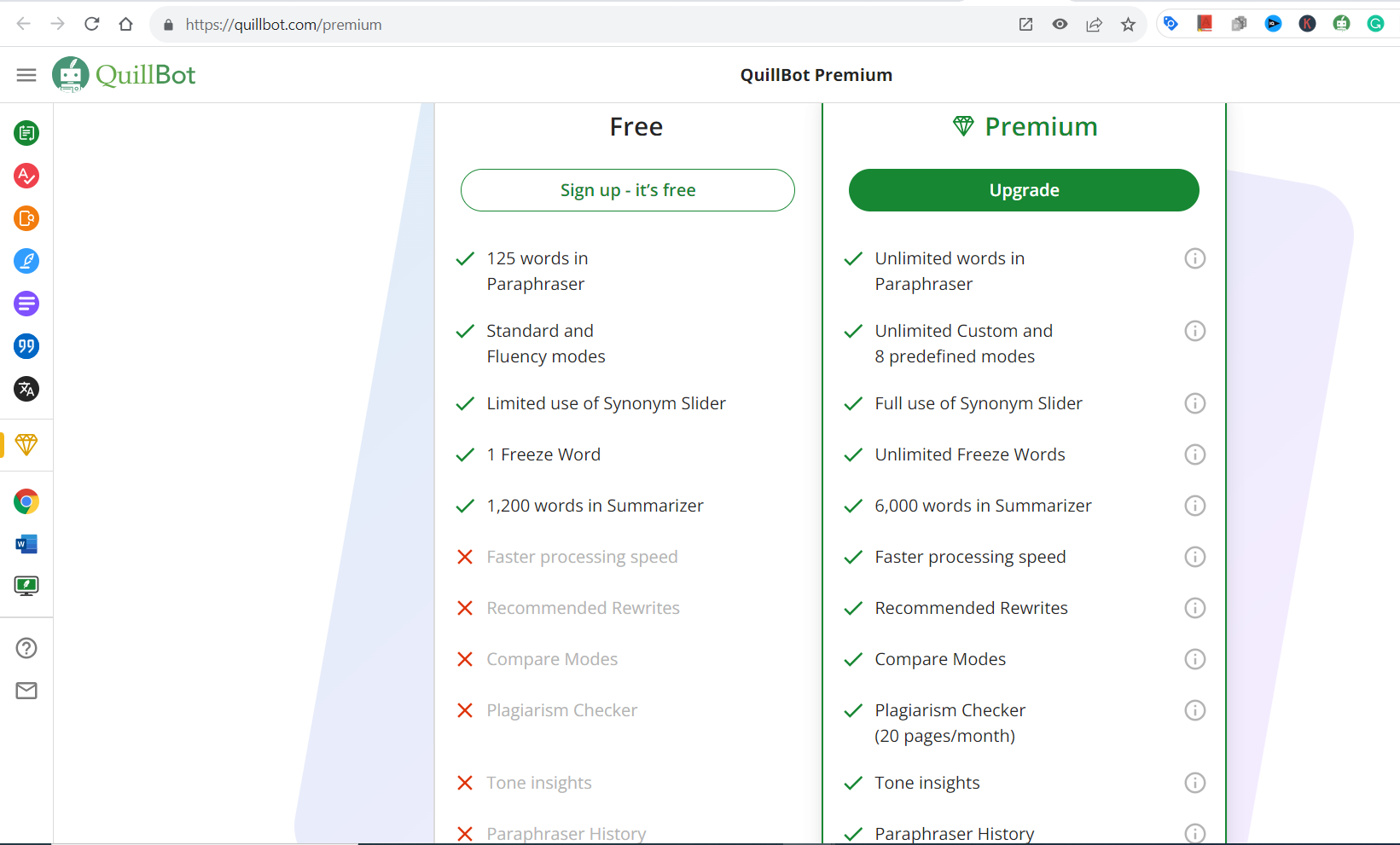 Pros of QuillBot's AI Writing Tool
1. User-Friendly: QuillBot's intuitive interface makes it accessible to all skill levels.
2. Wide Range of Features: It offers a comprehensive suite of writing assistance features, from grammar checks to paraphrasing.
3. Effective Paraphrasing: QuillBot's paraphrasing feature maintains the original context while providing unique content.
4. Integration: Its compatibility with various writing platforms and browser extensions enhances its usability.
5. Regular Updates: QuillBot frequently updates its algorithms to provide better suggestions and improvements.
Cons of QuillBot's AI Writing Tool
1. Limited Free Version: The free version has limitations on word count and features, which might not be sufficient for extensive writing projects.
2. Subscription-Based Pricing: The premium features require a subscription, which may not be budget-friendly for all users.
3. Dependency: Overreliance on AI tools like QuillBot may hinder the development of natural writing skills.
Final Thoughts
The QuillBot AI Writing Tool is valuable for anyone looking to improve their writing, save time, and produce high-quality content. Its wide range of features, user-friendly interface, and flexible pricing plans make it a compelling choice for writers and content creators across different domains.
However, users should be mindful of the limitations of the free version and consider the pricing plans that align with their specific needs and budgets.
Balancing automation and personal writing skill development is essential, as with any writing tool. QuillBot can be a powerful ally in your writing journey, but it should complement, not replace, your unique voice and creativity.
Ready to supercharge your writing? Don't miss out on the incredible benefits of QuillBot AI Writing Tool! Start crafting impeccable content, boosting your productivity, and honing your writing skills today.
Get Started with QuillBot Now!
FAQ (Frequently Asked Questions)
Q1: Is QuillBot AI Writing Tool suitable for beginners?
A1: Absolutely! QuillBot's user-friendly interface makes it accessible for writers of all levels, including beginners. Its real-time feedback and grammar suggestions can significantly aid in improving your writing skills.
Q2: Can I use QuillBot for academic writing?
A2: Yes, you can! QuillBot is a valuable tool for academic writing, offering features like grammar and spell checks, paraphrasing, and vocabulary enhancement. However, always ensure compliance with your institution's guidelines on writing assistance tools.
Q3: Is the free version of QuillBot limited in functionality?
A3: The free version offers basic features, including paraphrasing and grammar checks, but has limitations on word count and some advanced functionalities. Consider the premium plans for full access to QuillBot's capabilities.
Q4: How does QuillBot handle plagiarism?
A4: QuillBot's paraphrasing feature is designed to help you create unique content while maintaining the original context, reducing the risk of unintentional plagiarism. However, always cross-check your work for proper citations when needed.
Q5: Can I use QuillBot on mobile devices?
A5: Yes, QuillBot is accessible on mobile devices through web browsers. While it doesn't have a dedicated mobile app, it can be used on smartphones and tablets with an internet connection.