Online Business
HubSpot's Insane Offer: 5 Products, $20/Month - Keap Can't Compete
HubSpot's Insane Offer: 5 Products for only $20 per month-Keap can't compete
Are you ready to supercharge your business without breaking the bank? In a world where marketing tools can be a costly affair, HubSpot has dropped a bombshell deal - an all-inclusive bundle of Marketing Hub Starter, Sales Hub Starter, Service Hub Starter, CMS Hub Starter, and Operations Hub Starter for just $20 a month!
HubSpot CRM Starter Suite
HubSpot is offering for a LIMITED TIME ONLY TIL END OF SEPTEMBER OF 2023 $20/MONTH CRM STARTER SUITE. All 5 products in one bundle price! You will get Marketing Hub Starter, Sales Hub Starter, Service Hub Starter, CMS Hub Starter, and Operations Hub Starter. THIS OFFER IS ONLY AVAILABLE TO NEW CUSTOMERS ONLY. THIS OFFER WILL END SOON. GET IT TODAY!
GET HUBSPOT CRM STARTER SUITE FOR $20/MONTH
DISCLAIMER: FOR NEW CUSTOMERS ONLY. AND ITS ONLY FOR THE WHOLE MONTH OF SEPTEMBER 2023.
It sounds too good to be true, right? In this no-holds-barred showdown, we're pitting HubSpot's irresistible offer against Keap, a worthy competitor in its own right. Buckle up as we dissect the features, benefits, and value you'll get from each platform. The verdict might just redefine your marketing strategy forever. LIMITED TIME ONLY.
What is Keap?
Keap is a comprehensive business automation software designed to simplify and streamline various aspects of small and medium-sized businesses. With its user-friendly CRM system, email marketing capabilities, and marketing automation tools, Keap helps businesses efficiently manage customer relationships, engage with their audience through personalized email campaigns, and automate key marketing processes.
Keap also offers e-commerce and appointment scheduling features, making it a versatile solution for businesses looking to grow and succeed in a competitive marketplace.
Features and Benefits:
1. CRM: Keap offers a robust CRM (Customer Relationship Management) system that helps you manage contacts, track interactions, and segment your audience effectively.
2. Email Marketing: It provides email marketing tools for creating and sending personalized email campaigns, automated follow-ups, and customizable templates.
3. Automation: Keap allows for advanced marketing automation, including lead scoring, tagging, and behavior-based triggers, helping you streamline your marketing efforts.
4. E-commerce: Keap has e-commerce features for managing products, inventory, and processing payments, making it suitable for businesses that sell products online.
5. Appointment Scheduling: You can set up appointments, send reminders, and manage your calendar with Keap's scheduling tools.
Pros:
- User-friendly interface.
- Strong CRM capabilities.
- Robust marketing automation.
- E-commerce integration.
- Good for small and medium-sized businesses.
Cons:
- Limited third-party integrations compared to HubSpot.
- Pricing can be on the higher side for some businesses.
Pricing:
Keap offers three pricing tiers:
1. Pro: Starting at $159 monthly (Billed annually). Saved 20%
2. Max: Starting at $229 monthly (Billed annually). Saved 20%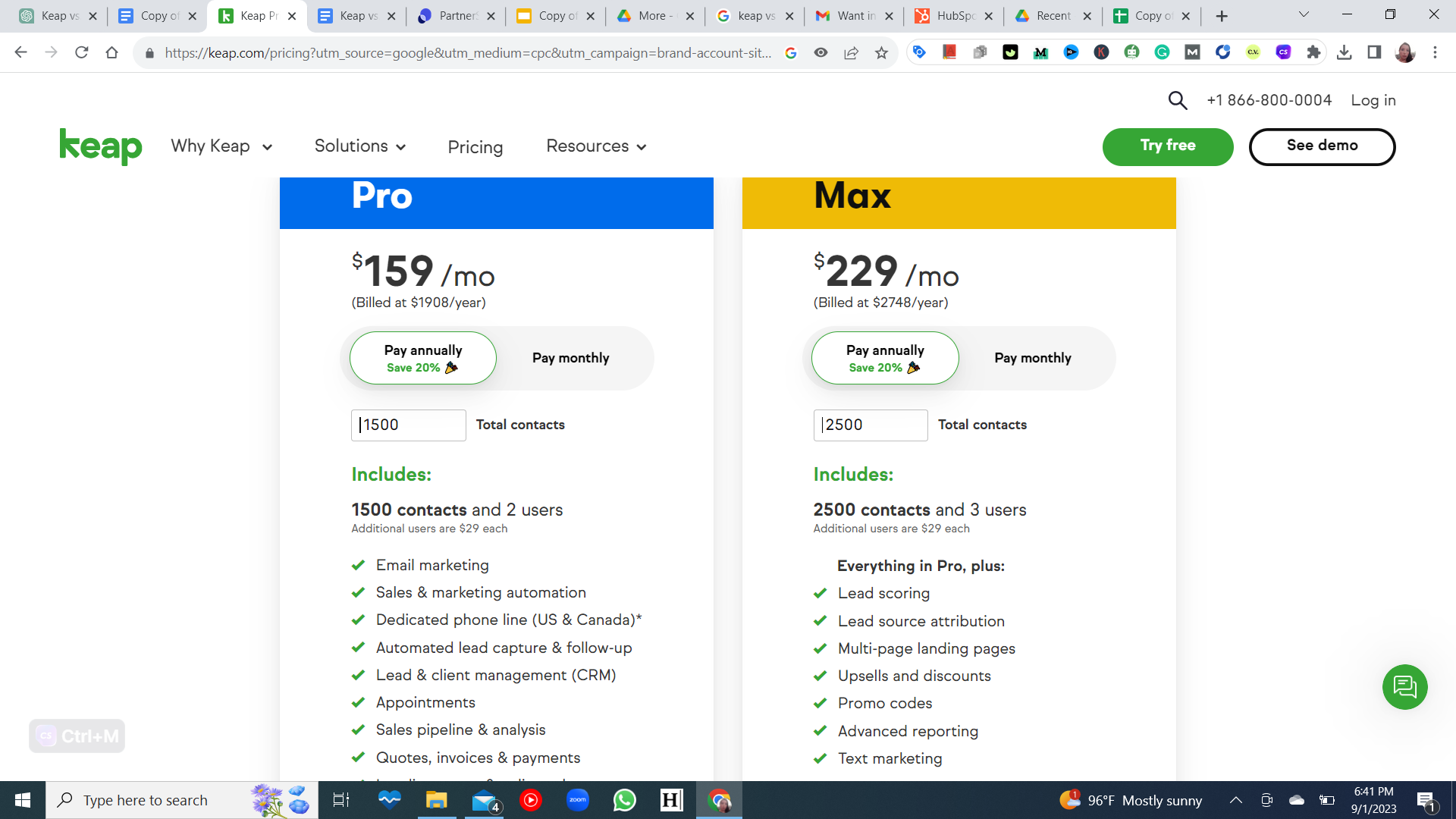 Features and Benefits:
1. CRM: HubSpot provides a free CRM with robust contact and lead management features.
2. Marketing Hub: Offers tools for inbound marketing, including email marketing, content creation, SEO, and social media management.
3. Sales Hub: Includes sales automation, email tracking, and pipeline management for sales teams.
4. Service Hub: Helps with customer support, ticketing, and knowledge base management.
5. Operations Hub: Everything you need to connect your apps, sync and clean customer data, and automate business processes.
Pros:
- Comprehensive suite of marketing, sales, and customer service tools.
- Free CRM with unlimited users.
- Extensive third-party integrations.
- Scalable for businesses of all sizes.
- Active community and resources for learning.
Cons:
- Can be overwhelming for small businesses due to the sheer number of features.
- Higher costs as you scale and add more features.
- Limited customization options in the free CRM.
Special Pricing: This entire month of September 2023. New Customers only. Special pricing for the CRM Starter Suite Price Plan.
CRM Suite Pricing Plan
-Includes Marketing, Sales, Services, CMS, and Operations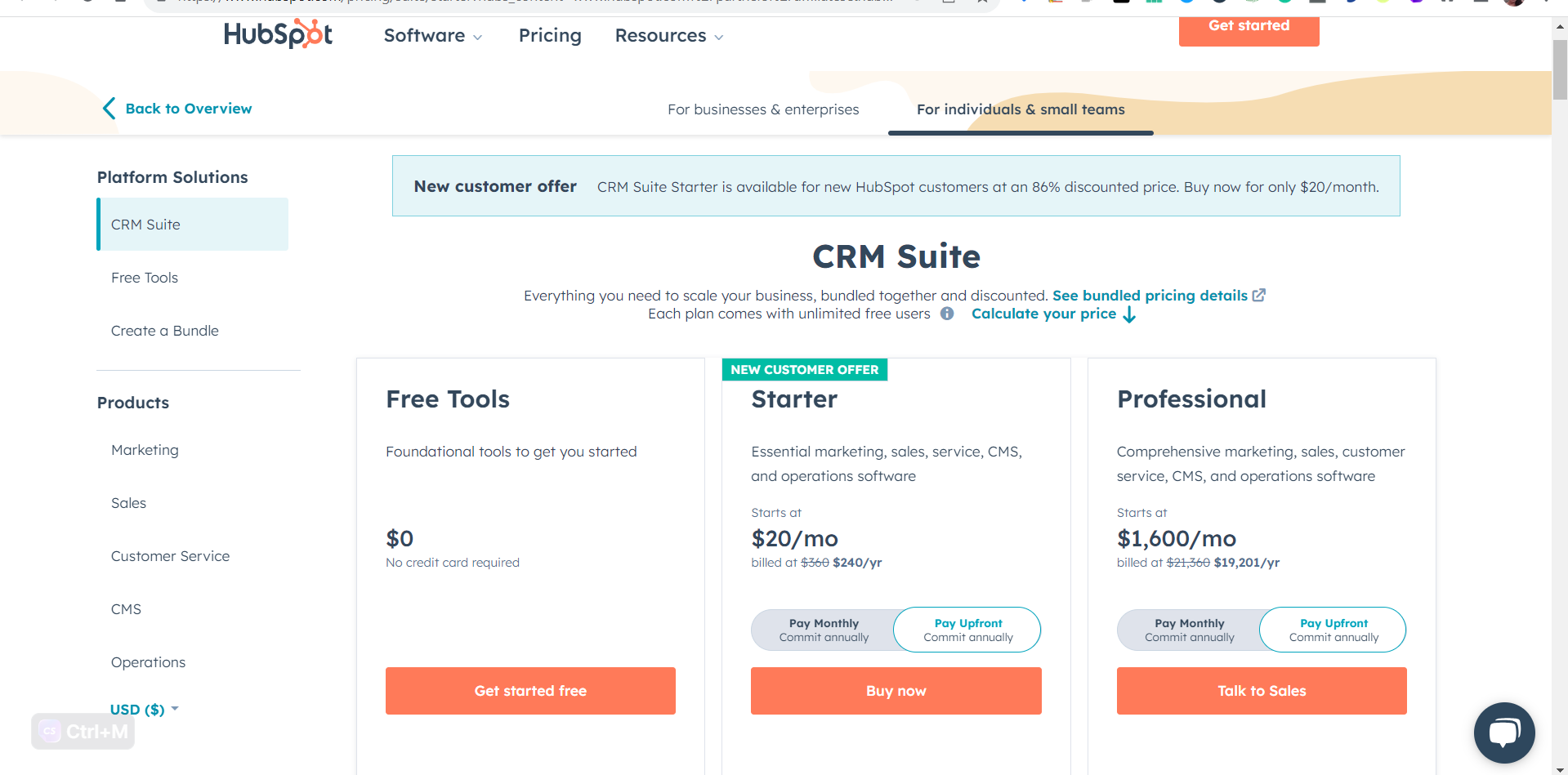 Sign up to get CRM Suite Starter Special Offer $20/Month
HubSpot offers various pricing tiers:
1. Free CRM: Basic CRM features at no cost. Limited tools.
2. Starter: starting at $20 monthly ONLY IN SEPTEMBER 2023. NEW CUSTOMERS ONLY. (Billed annually at $240) or $30/per month if paying monthly. Save 86% discount.
3. Professional: starting at $1600 per month.
4. Enterprise: starting at $5,000 per month
If purchased separately: Each price is for individual hub.
Marketing Hub Starter $20 per month
Sales Hub Starter $20 per month
Service Hub Starter $20 per month
*Disclosure: This post may contain affiliate links at no additional cost to you. I only recommend products I would use myself; all opinions expressed here are mine. In addition, I may earn a small commission.
Final Thought
In the marketing and sales solutions arena, HubSpot's $20 All-in-One CRM Starter Suite is a game-changer offering unprecedented value.
Its extensive suite of tools and integrated approach make it a force to be reckoned with. However, Keap, while offering its own set of benefits, faces an uphill battle to match the sheer scope of HubSpot's offering.
Your choice ultimately depends on your business needs, budget, and long-term goals. But one thing is clear: HubSpot's offer is a seismic shift in the industry that's hard to ignore.
As you embark on your marketing journey, remember that the landscape is ever-evolving. Stay updated with the latest trends, tools, and strategies to ensure your business's continued success.

Ready to explore the marketing deal of the year? Dive into this fantastic offer. Don't miss out on this limited-time opportunity—click here to sign up before September 30, 2023!
Q1: Is the HubSpot $20 offer only available to new customers during September 2023?
A1: Yes, HubSpot's $20 CRM Starter Suite is a special limited-time offer available exclusively to new customers for the month of September 2023. Existing customers may have different pricing structures.
Q2: Are there any limitations on the $20/month HubSpot offer for September 2023?
A2: While the $20/month offer is incredibly cost-effective, reviewing the fine print on HubSpot's official website for any potential limitations or restrictions that may apply during this promotional period is essential.
Q3: How does Keap compare to HubSpot regarding pricing and features?
A3: Keap offers its own set of features and pricing tiers. However, HubSpot's $20 bundle for September 2023 offers a wide array of tools at an exceptionally competitive price point, making it an attractive option for many businesses. It's crucial to assess your specific needs and budget to determine which platform fits you.
Q4: Is HubSpot's $20 offer available after September 2023?
A4: The $20 CRM Starter Suite offer is exclusive to the month of September 2023. Please visit HubSpot's official website or contact their sales team for the most up-to-date information on pricing and promotions beyond this limited-time offer.
---
Are you an avid reader? Would you like to have unlimited access to my blog? Then consider signing up to become a member. It's just $5 per month. The free account only limits the 3-day free trial. To sign up, click the link below. The membership fee will help support me and my blog. Thanks so much!