entrepreneurship
Alliance Virtual Offices: It's More Than Just a CoWorking Space
Alliance Virtual Offices: Its more than just a coworking space.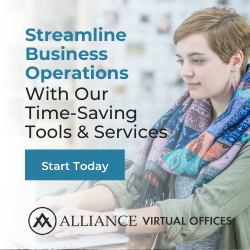 Coworking Spaces Starting at $49/Month
Alliance Virtual Offices takes the benefits of a Coworking space to a whole new level by offering more than just virtual office solutions that can complement your membership. With their virtual office services, you can enjoy a prestigious business address, professional phone answering services, and access to meeting rooms in multiple locations across the globe.
Coworking spaces with Alliance Virtual Offices offer a range of benefits that can transform your working experience and elevate your professional image. From the collaborative environment to the networking opportunities, these shared workspaces provide a platform for growth and success. By combining coworking spaces' advantages with Alliance Virtual Offices services, you can achieve a professional image that will leave a lasting impression on your clients and business associates.
This gives your business a global reach, even if you primarily operate from a coworking space in a specific city. As the demand for flexible working arrangements continues to rise, these spaces offer a solution that combines the advantages of working independently with the community and resources of a traditional office. One of the significant benefits of coworking spaces is the professional image they project.
Coworking spaces have become more than shared office spaces; they have evolved into a thriving ecosystem that nurtures innovation and collaboration.
Read these articles to learn more about Alliance Virtual Offices:
https://medium.com/the-work-at-home-blogger/how-to-use-a-vir...

https://www.theworkathomeblogger.com/blog/protect-your-priva...
Perception is Everything

When you present your business to clients, investors, or potential partners, you want to convey credibility, reliability, and success. And what better way to do that than by positioning yourself in a professional environment where you can quickly meet clients, host meetings, and build relationships? Coworking spaces provide a professional backdrop for your business endeavors, giving you access to well-designed, fully-equipped workspaces that make a lasting impression.
But it's not just about the aesthetics. Coworking spaces also offer a range of amenities and services that can enhance your professional image. With Alliance Virtual Offices, you can take advantage of mail handling and forwarding services, a dedicated business address, and professional receptionist services that give your business a polished image.
These services help to establish your presence and foster trust among your clients and business associates.
Enhancing Professional Networking Opportunities
One of the key benefits of a coworking space is the opportunity to enhance your professional networking. Connecting with others in your industry can be challenging as a remote worker or independent professional. Thus, joining a coworking space through Alliance Virtual Office gives you access to a vibrant community of like-minded individuals who can become valuable contacts and collaborators.
1. Collaboration and Shared Knowledge
Coworking spaces encourage collaboration and the sharing of knowledge among their members. By working alongside professionals from various industries, you can learn from their experiences, gain new insights, and exchange ideas. This collaborative environment boosts creativity and innovation, fostering long-lasting professional relationships.
2. Networking Events and Workshops
Many coworking spaces organize networking events and workshops specifically designed to help members connect. These events provide valuable opportunities to expand your professional network, meet potential clients or partners, and stay updated with industry trends. Whether it's a guest speaker session, a workshop on a relevant topic, or a networking happy hour, these events create a conducive environment for meaningful connections.
3. Community Building
Coworking spaces are known for their strong sense of community. They provide a supportive and inclusive environment that encourages members to interact and build relationships. From informal conversations in communal areas to organized community-building initiatives, coworking spaces foster a sense of belonging that can lead to fruitful professional connections.
4. Access to a Diverse Network
When you join a Coworking space with Alliance Virtual Offices, you gain access to a diverse network of professionals from various backgrounds and industries. This diverse community allows you to tap into multiple expertise, resources, and perspectives. Whether you need advice on a particular business challenge or are looking for recommendations for service providers, the coworking community can serve as a valuable resource.
5. Business Referrals and Collaborations
There are ample opportunities for business referrals and collaborations within a coworking space. As you build relationships with other professionals, you may come across individuals or businesses needing your services, or vice versa. By referring each other to potential clients or collaborating on projects, you can tap into new business opportunities and expand your professional reach.
6. Enhanced Professional Image
Being part of a coworking space through Alliance Virtual Offices can enhance your professional image. The presence of a physical office address and access to professional amenities such as meeting rooms and reception services can instill confidence in clients and partners. This professional image can help you make a positive impression and establish trust, especially if you are a solopreneur or a small business owner.
Alliance Virtual Offices coworking spaces offer excellent opportunities to enhance professional networking activities. Coworking spaces provide a supportive environment for fostering valuable connections and expanding your professional reach through collaboration, networking events, community building, access to a diverse network, business referrals, and an improved professional image.
Increasing Productivity and Focus
Staying productive and focused in a fast-paced and demanding work environment is crucial for success. However, working from home or in coffee shops can often lead to distractions and interruptions that hinder productivity. This is where Coworking spaces can genuinely make a difference in your work life.
A Distraction-Free Environment
One of the critical benefits of coworking spaces is the ability to work in a distraction-free environment. When working from home, you may be tempted to catch up on household chores or be interrupted by children or pets. Coworking spaces provide a dedicated workspace away from the distractions of everyday life. You can enjoy the peace and quiet and concentrate on your tasks without interruptions.

Structured Work Environment
When working from home or in other informal settings, it's easy to fall into the trap of working aimlessly. Establishing a routine and maintaining focus can be more manageable in a structured work environment. Coworking spaces provide structure, with dedicated workstations, communal
break areas, and professional amenities. By working in a structured environment, you can establish a routine that optimizes your productivity and helps you stay focused throughout the day.
Access to Professional Resources and Services
Another advantage of coworking spaces is access to professional resources and services that can enhance productivity and support business growth. Many Coworking spaces offer high-speed internet, meeting rooms, printing and scanning facilities, and even reception services to handle your calls and mail.
Utilizing these resources allows you to streamline your work processes and focus on your best work, ultimately increasing productivity.
Improved Work-Life Balance
Working from home can blur the boundaries between work and personal life, leading to challenges with work-life balance. Coworking spaces provide a clear separation between work and personal life. A dedicated workspace outside your home lets you mentally switch into work mode when you enter the coworking space and switch off when you leave.
This separation can help you maintain a healthier work-life balance and prevent burnout, allowing you to be more productive during work hours and fully present in your personal life.
Staying productive and focused in the fast-paced digital age is vital to achieving professional success. Coworking spaces offer an ideal solution by providing a distraction-free environment, fostering collaboration, offering a structured work environment, access to professional resources and services, and supporting a better work-life balance.
By embracing the benefits of coworking spaces, you can enhance your productivity, achieve your goals, and elevate your professional image.
Reducing Cost and Overheads
Running a business can be costly, especially regarding office space and overhead expenses. However, you can significantly reduce these costs and overhead by opting for a Coworking space through Alliance Virtual Offices. Here's how:
1. Shared Resources
One of the critical advantages of Coworking spaces is the ability to share resources with other businesses. Instead of bearing the entire cost of utilities, equipment, and other office amenities by yourself, you can save money by sharing these resources with like-minded professionals.
You can access high-quality facilities, such as modern meeting rooms, conference equipment, and state-of-the-art technology, without the financial burden.
2. Flexible Space Options
With Alliance Virtual Offices, you can choose the space that best fits your needs and budget. Whether you need a small workstation, a private office, or a meeting room for client presentations, various options are available. This ensures you only pay for the required space, avoiding unnecessary expenses.
3. No Long-Term Commitments
Coworking spaces offer more flexibility than traditional office leases, often requiring long-term commitments. Whether you are expanding your team or downsizing, you can quickly adapt your workspace to match your changing business needs. Alliance Virtual Offices allows you to choose monthly or daily contracts and scale up or down as required.
This means you can save on long-term lease commitments and avoid the hassle of terminating a lease early.
4. Lower Maintenance Costs
Maintaining a traditional office space can be a headache, often involving repairing, cleaning, and other maintenance tasks. However, the space provider typically takes care of these responsibilities with a Coworking space. This means you can focus on running your business without the added stress and expense of managing office maintenance.
5. Professional Image without the Price Tag
Renting a prestigious business address and having a professional receptionist answer calls can significantly affect how your business is perceived. However, setting up a traditional office with these features can be costly. Choosing a Coworking space through Alliance Virtual Offices allows you to enjoy these benefits without the hefty price tag. With a virtual office plan, you can have a prestigious business address, mail handling services, and a dedicated phone line answered by a professional receptionist, all at a fraction of the cost of setting up a physical office.
6. Flexibility and Scalability in Office Solutions
Flexibility and scalability are essential when choosing office solutions, and Coworking spaces offer high levels of both. One of the main advantages of coworking spaces is their flexibility, which allows you to customize your workspace according to your needs.
Flexibility and scalability are vital elements for any professional or business seeking an office solution that can adapt to their needs.
7. Customizable Workspace
With a Coworking space, you can choose the type of workspace that suits you best. Whether you prefer a private office, a shared desk, or a dedicated workstation, Coworking spaces offer various options to accommodate your preferences. This flexibility allows you to create an environment that fosters productivity and matches your working style.
8. Access to Additional Amenities
In addition to flexible workspace options, coworking spaces often offer a wide range of amenities that enhance your office experience. These may include meeting rooms equipped with audio and visual technology, high-speed internet, ergonomic furniture, and communal areas for networking and relaxation. Access to these amenities allows you to work efficiently and comfortably while providing opportunities to connect with other professionals.
9. Scalability for Growing Businesses
Another advantage of coworking spaces is their scalability, which is particularly beneficial for startups and growing businesses. Your office needs may change as your business expands, and coworking spaces can easily accommodate these changes. Whether you need to add more workstations, upgrade to a larger office, or expand to multiple locations, coworking spaces offer the flexibility to scale up or down as required.
This can save you the hassle and expense of relocating your entire office.
10. Cost-Effective Solutions
Flexibility and scalability go hand in hand with cost-effectiveness. Traditional office leases often require long-term commitments and substantial upfront costs. In contrast, coworking spaces offer more flexible rental terms, allowing you to pay for your workspace monthly or even daily. This pay-as-you-go model eliminates the need for long-term financial commitments, making Coworking spaces a cost-effective solution for professionals and businesses of all sizes.
Amenities and Support Services for a Professional Environment
When you step into a coworking space, you want to be greeted by an environment that exudes professionalism and offers all the amenities and support you need to thrive. At Alliance Virtual Offices, we understand the importance of creating a professional image and providing top-notch services that cater to your business needs.
Here are some essential amenities and support services offered at our Coworking spaces to help you achieve a professional environment:
Fully furnished office spaces
Picture this: you walk into a well-designed and fully furnished office space, ready to start working immediately. At Alliance Virtual Offices, we provide modern and comfortable workspaces with ergonomic furniture so you can focus on your work without distractions. From spacious desks to comfy chairs, our coworking spaces are thoughtfully designed to enhance productivity and create a professional atmosphere.
High-speed internet access
In today's digital age, fast and reliable internet connectivity is crucial for any professional environment. Our coworking spaces offer high-speed internet access, ensuring you can seamlessly connect to your online resources, collaborate with team members, and conduct video conferences without interruptions. Say goodbye to slow loading times and hello to efficient and uninterrupted workdays.
Meeting and conference rooms
Impress your clients and hold productive meetings in our well-equipped meeting and conference rooms. Whether you need a small private space for one-on-one discussions or a larger room for team presentations, our coworking spaces offer various meeting room options to suit your needs. You can create a lasting impression on your clients and colleagues with state-of-the-art audiovisual equipment, comfortable seating, and a professional setting.
Professional reception services
First impressions matter, and our coworking spaces provide professional reception services to ensure you and your visitors feel welcome when you arrive. Our friendly and experienced receptionists are on hand to greet your guests, handle mail and packages, and assist with administrative tasks, allowing you to focus on your core business activities. With our professional reception services, you can create a positive and professional image for your company.
Business address and mail handling
Having a prestigious business address can enhance your professional image and credibility. Alliance Virtual Offices offers a business address service that allows you to use our prime location as your mailing address. Our dedicated staff will handle your incoming mail and packages, ensuring you get all the crucial documents and deliveries. With our mail-handling services, you can streamline your business operations and maintain a professional appearance.
On-site support team
Having a dedicated on-site support team can be invaluable in a Coworking space. Our Coworking spaces feature experienced support staff available to assist you with technical issues, facility inquiries, or general administrative tasks. From troubleshooting IT problems to answering your questions about office facilities, our on-site support team ensures you have a seamless and productive work experience.
Coworking spaces at Alliance Virtual Offices offer a range of amenities and support services that cater to your professional needs. From fully furnished office spaces to high-speed internet access, meeting rooms, reception services, a business address, and on-site support, we strive to create a professional environment where you can thrive and achieve your business goals. Experience the benefits of a professional image with Alliance Virtual Offices.
In Conclusion
Choosing a Coworking space through Alliance Virtual Offices can significantly reduce your business's costs and overheads. You can achieve tremendous cost savings by sharing resources, opting for flexible space options, avoiding long-term commitments, and saving on maintenance expenses. Additionally, having a professional image without a high price tag can enhance your business's credibility and attract potential clients.
So why burden yourself with unnecessary expenses when you can achieve all this and more with Alliance Virtual Offices?
Ready to take your productivity to the next level? Join the Alliance Virtual Offices and benefit from a top-notch workspace designed to enhance efficiency. Upgrade your working environment today by choosing Alliance Virtual Offices. Sign up today to get started.